girls! this one's for you. i wanted to share with you some products i've recently used, and let you know what i found to work best.
first is a comparison between two primers.
#1: smashbox photo finish color correcting blend
i got a sample of the far left primer, and i did so because the woman at the counter said that one was best for combination skin.
this one i bought without any sales advice and no knowledge of the differences between primers.
STUDIOGEAR!!! both of these products cost between 30 and 40ish dollars, so, not cheap. i'm glad i didn't buy the smashbox one, but i'm out of my studiogear and as much as i love it, i'm very non-commital when it comes to beauty products! there are just too many to try! however, the studiogear is great, and has lasted me about a year. i use it when i'm gonna be working long shifts, so, not everyday, which is why it's lasted long...it keeps my makeup on and in place for at least 5-6 hours. it is odorless and light weight.
sadly, smashbox isn't doin it for me. the pigment in the product is too much for my skin, and i'm olive toned. it feels greasy and heavy and adds shine where i don't necessarily want it. it keeps my makeup on, but i don't like the texture, color, or sheen.
next product up for review is the lip stain.
#1 is revlons "just bitten" lip stain: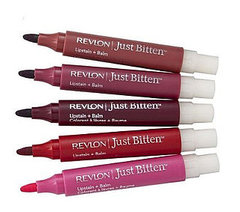 i bought three of these because they were on sale at rite aid :) i got them in "flame", "crave", and "passion". they are normally about ten dollars a tube.
#2 is actually a water blush by pixi (available at target):
although it's marketed as a blush, i use it as a lip and cheek stain, because it's got much more staying power than powder blushes or most lipsticks i've tried. i spent about $20 on this one.
pixi!!!! again, this product itself lasts and lasts, and all the while, lasting on your face too! a little bit goes a long way, and you need to take extra care rubbing it into your cheeks if you use it as a blush. on a couple of rushed occasions, i've left the house with a hint of a line where i put it on..luckily lance usually catches those things before i leave the house.
revlon :( as much as i wanted to love these, i don't. the tips dry out rather quickly, and some colors seem to have come with less product in the tube. the stain is very drying, and the little nub of moisturizer on the other end of the tube is NOT user friendly, nor very moisturizing. the color options are nice, but the quality is just lacking.
the next two products are concealers.
#1: conceal fx (from sephora)
i reluctantly bought this ($28 for a small tube!!!) at
sephora, because my favorite makeup artist, kandee johnson, swears by it.
for about the same price, these two products are radically different.
conceal fx!!! kandee was right, this concealer does the job and stays on forever! HOWEVER, when i squeeze it out of it's tube, sometimes there is some watery substance that comes out with it which makes me a little grossed out. if there was a way to shake it, then the problem would be solved, but you really can't mix a small compact tube.
erase paste. it's not terrible, but it just doesn't stay as well, and it doesn't blend as well...it sort of bulks up in areas around your nose. the little applicator it comes with is just silly. i can hardly keep track of my keys, but they think we can keep track of a tiny plastic spoon? wish i could, because when the product starts getting low, and you have to dig for it, it inevitably gets under even the shortest of nails, and that's just icky.
alright well that's all for now :)
thanks for reading, it really means a lot to me!!